The Ryssby Congregation was organized January 3, 1878. In 1914 the church merged with the Elim Lutheran Church in Longmont to form the First Lutheran Church of Longmont. 
This church site, declared a Historical Site by the State Historical Society of Colorado, through the efforts of the Rev. Luther Stromquist, former pastor of First Lutheran, continues to be refurbished. In 1984, Ryssby Church through efforts of Stan Elmquist received designation as a National Historical Site by the Department of Interior, U.S. Government, and by the Colorado State Historical Society.
Various holiday and other services are offered throughout the year.  We also offer burial services and the Ryssby committee can provide assistance to individuals or families wanting to purchase a burial plot in the Ryssby Cemetery. Visit our Services page for more information. 
The Ryssby Committee welcomes inquiries to use the church for a wedding, funeral or other special events. Visit our Events page for more information.
One of the histories "Ryssby: The Country Church" was written by David P. Nelson. It tells the story of the immigrants from Ryssby, Sweden, including David Nelson's ancestors who settled in the Ryssby area Southwest of Longmont and built a little stone church.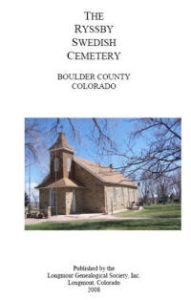 The Ryssby Committee has also established an endowment fund to cover the costs of ongoing maintenance and restoration work for the church and cemetery.
Please visit our Endowment page for more information about the fund.